Visit
Guided Kayak & Canoe Trips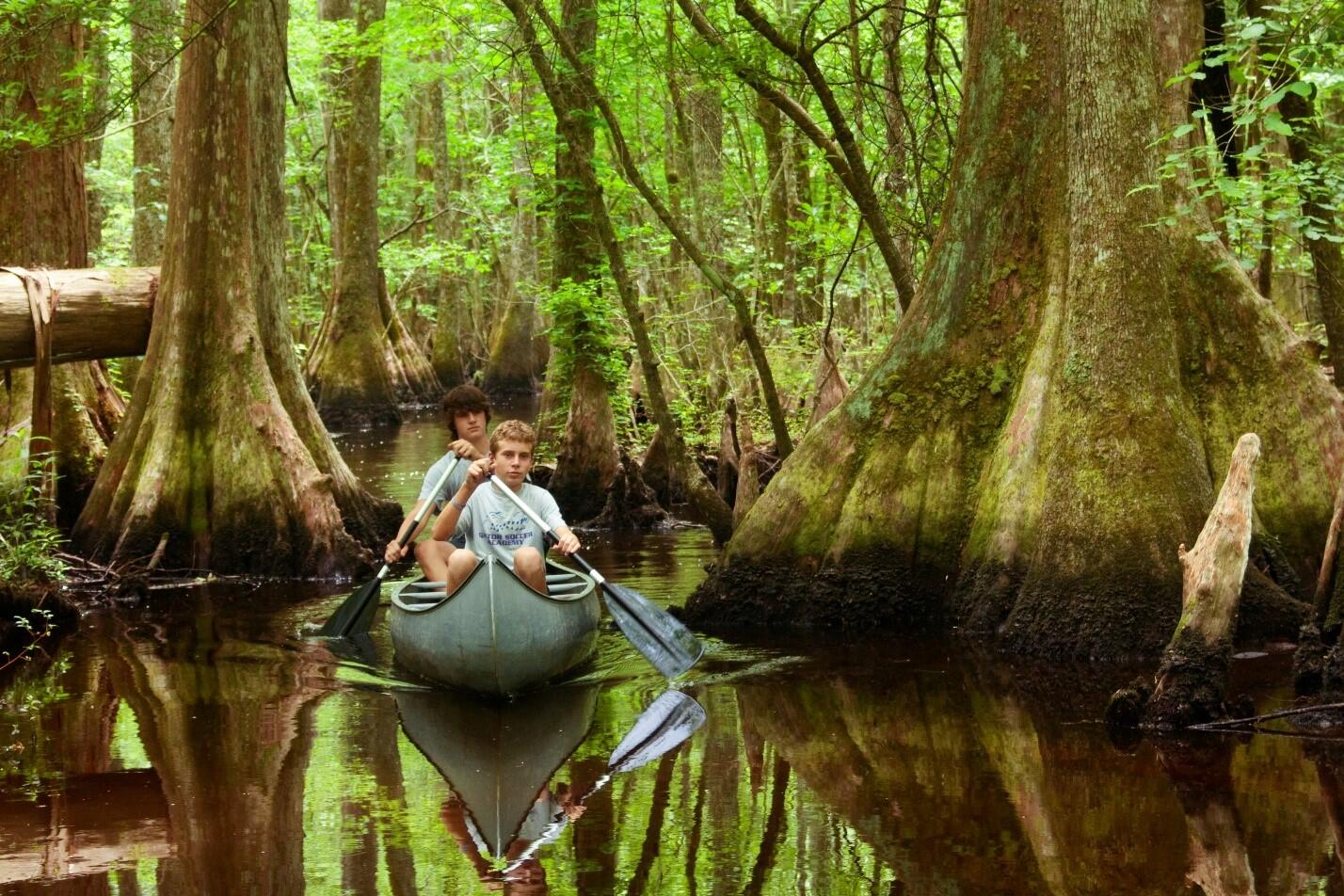 Paddle the flowing blackwater under towering 1,000-year-old cypress trees as an Audubon naturalist leads you deep into the heart of the forest. You'll treasure this unique view of the swamp for the rest of your life!
Our 2022 spring/summer kayak & canoe season will begin in mid March, but registration is open now. Space is limited, so try to register as early as possible. Please read below for our rules, recommendations, and current Covid-19 guidelines.
Seasonal Schedule & Fees (March, April, May)
Length
Day
Time
Cost
2 Hours*
Saturday
10 AM
$40 per adult (age 13+), $20 per child (ages 8-12)
2 Hours*
Saturday
2 PM
$40 per adult (age 13+), $20 per child (ages 8-12)
* 2 hours will be spent on the water, approx. 1 hour will be spent checking-in, going over procedures, preparing the boats, etc.
Custom Private Guided Tours - If you are interested in a private guided canoe/kayak trip other than the times listed above we may be able to accomodate you, based on staffing availability and water level. If you would to ask to see if a certain time is available please call us at 843.487.9988 or email us at Beidler@audubon.org.

Covid-19 Guidelines/Restrictions
Be sure to bring your mask with you. Your guide will go over mask guidelines once you arrive.

Boats will only be shared by those in the same family/friend group.
Rules and Recommendations
Reservations Required: Seasonal trips must be reserved online at least 24 hours in advance. Follow this link to make your reservation today. We suggest that you sign up early - our canoe trips are very popular attractions, so they fill up fast! Call 843-487-9988 or email beidler@audubon.org with any questions.
Cancellation Policy: For those that cancel with less than one week's notice, only a 50% refund will be given. If you

cancel

less than 24 hours before your trip, no refund will be given. If we

cancel

the trip, of course, you will be fully reimbursed.
Minimum Capacity: If three or fewer participants are registered for a trip, we reserve the right to cancel the trip 24 hours in advance.
Availability: Canoe trips are subject to our having enough water from recent rains. Based on historic water levels, trip conditions become increasingly unlikely from June through September.
Canoes and Kayaks: Our tours are limited to 6 boats. We have 2-3 person canoes, 2 person kayaks, and a few single kayaks. This means there will usually be two people per canoe or two people per 2-person kayak. What boats are used are dependent upon the number of people in the tour and will be determined by the guide on the day of your tour.
Your Own Equipment: We allow you to bring your own kayaks, paddles, and life vests, but we recommend being able to transport kayaks atop your vehicle instead of behind a trailer. We do not recommend bringing a kayak with a rudder unless you want to become more acquainted with every fallen tree just under the water.
Experience: We recommend that you arrive with some kayaking/canoeing experience. Our trips require you to maneuver between cypress knees, through narrow creek channels, and play around POISON IVY.
Clothing & Shoes: Bring clothing appropriate for that day's weather conditions. Wear shoes that can get wet, and keep in mind that paddles can dribble water onto your lap. Pads for your back are okay to bring.
Outdoor Gear: Binoculars and cameras are welcome! A waterproof bag is recommended since there's no guarantee that you won't flip your kayak or canoe.
Food & Drink: Please eat either before or after your trip. Snacks and something to drink are recommended. We also recommend a cookie for your guide if you want to be shown the way out :)
No: alcoholic beverages, firearms, or pets allowed.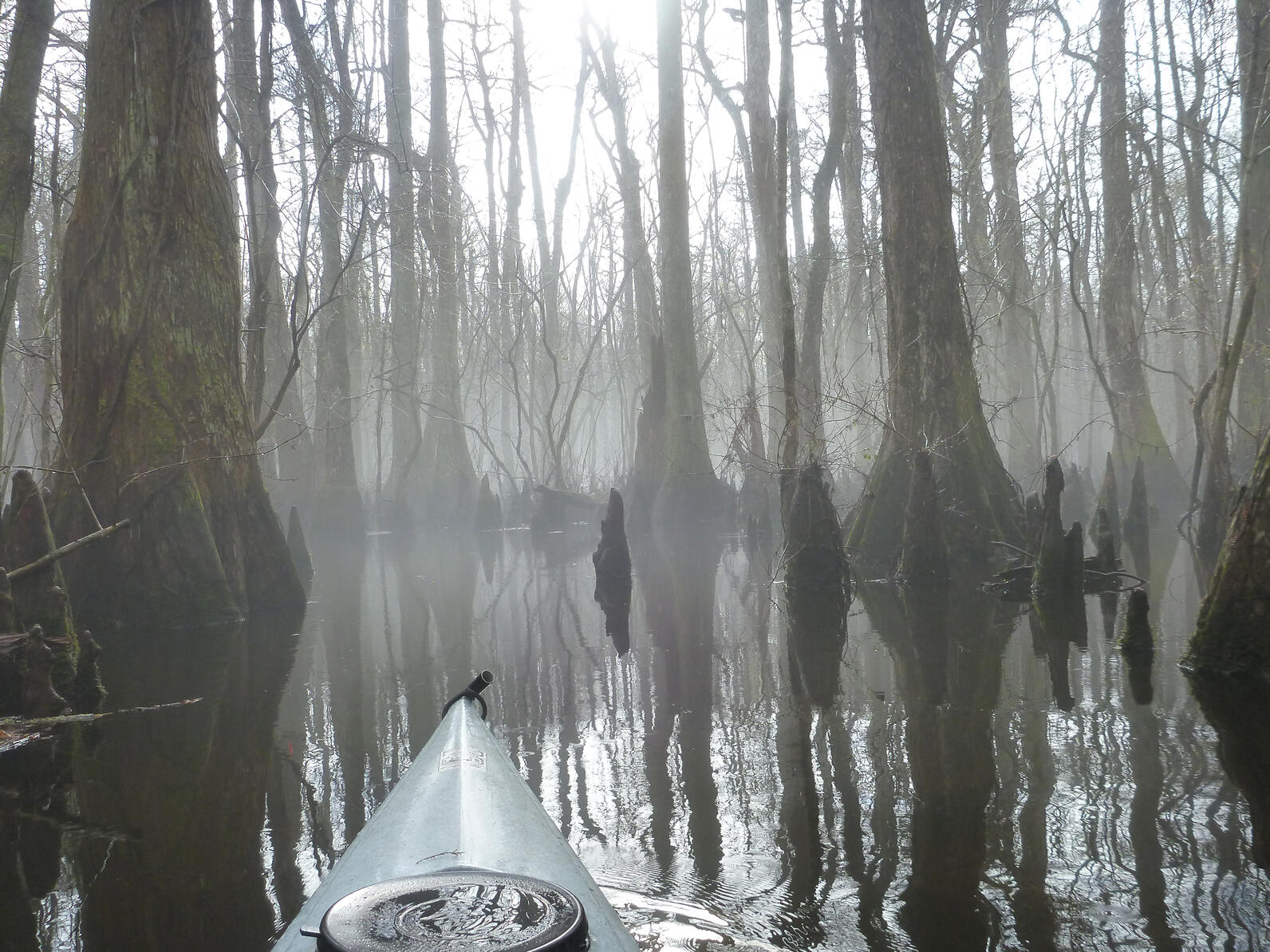 How you can help, right now
Donate to Beidler Forest
If you wish to support us, please consider donating. 100% of your donation goes back into Beidler Forest.