Blog
If you've been to our swamp in the last few weeks you might have had the benefit of experiencing their enthusiastic greeting as you park your vehicle.
You know, the biggest problem with deer flies is that they've decided to totally disregard what we named them, because on some days they certainly seem more like human flies than anything else. If you've been to our swamp in the last few weeks you might have had the benefit of experiencing their enthusiastic greeting as you park your vehicle. I'm writing this to inform you that despite the fact that it looks like a warzone outside the window, it is not the end of the world, your day trip has not been ruined.
I hope you're ready for some deer fly facts, and if not, just remember that old The Art of War adage, "If you know the enemy and know yourself, you need not fear the result of a hundred deer flies"
It went something like that, at any rate.
Deer flies, also known as yellow flies, are in some ways similar to mosquitoes and some ways opposite. Knowing the differences is important, because you need different strategies to deal with them. Both start as aquatic larvae, generally relying on pools, shallow water, and muck to survive. Once they emerge, the males of both species seek out nectar and pollen, while the females of both species seek out blood for their eggs. That's where the similarities stop.
Mosquitoes are slow but sneaky. They rely on stealth, the gentlest of touches, and being difficult to see while flying.
Yellow flies prefer the quick and obnoxious approach, bumping into you over and over to lull you into a sense of complacency, and as soon as you stop trying to brush them off they go in for their ounce of flesh (note: ounce is certainly hyperbole but I wouldn't put it past them).
Mosquitoes rely on chemosensors in order to locate their targets, detecting the carbon dioxide gas that we exhale. Breathing is pretty important so it's kind of hard not to attract them when you're out in the field. However, this is why bug spray works so well to deter them, it puts up a barrier of chemicals between them and you that they don't want to cross, they can't stand the smell.
Yellow flies may also be attracted by carbon dioxide, but their main sensory stimulus is sight. Things that move fast, things that are dark colored, things that are lit by the sun or giving off heat, these trigger the deer fly's desire to annoy. They have big eyes for this purpose. Since they rely on sight first, chemicals won't deter them, not even DEET.
Mosquites use delicate scalpel-like mouths to pierce your skin, which is why some, especially in this state, can bite through your jeans—especially the dreaded gallinipper (although I have encountered many gallinippers I've only ever had one try to bite me, in my opinion their aggressiveness is massively overstated and the little ones remain the true threats, both with bites and spreading diseases).
Yellow flies on the other hand come at you with a pair of scissors. You only have to get bit once to understand.
If you were to ask me which cloud of biting insects I would prefer, mosquitoes or deer flies? Well, you can outrun mosquitoes. Running away from deer flies just gets them excited.
So what can you do against these little terrors? Here are some strategies.
Since they are visual creatures they prefer daytime, so they usually aren't active until after 8 AM in our forests this time of year. They also aren't active in temperatures below 70 degrees, granted it's June in South Carolina so that point is pretty moot anyway. Still, getting to your hiking spot at the crack of dawn (our grassland/woodland trail opens at sunrise and closes at sunset) can get you a few hours of peace before they start to rouse themselves for their daily menacing.
Your best first line of defense against them is to wear light colored clothing, and if you have dark hair, wear a light colored hat. This at least ensures that they will target your friends wearing darker clothing first. Since they use a more slashing-than-piercing bite strategy, wearing thick and/or loose clothing is effective against them as well. From experience, basic cotton t-shirts only slow them down, but jeans are fine. Don't bother with DEET, it is useless against them. It acts like a solvent that melts the plastic of cameras and binoculars anyway, enough to leave smudges on your hands.
You can use their desire to dive head first onto a target to your advantage. Wear reversed duct tape around your hat and you'll catch a number of them (you can also buy hat patches specifically to stick deer flies). Just please don't leave them as litter in our swamp.
Remember that vehicles are large, shiny, hot, carbon dioxide emitters going at fast speeds, all of which makes them deer fly magnets. When you park in our parking lot, turn off the car and listen to the radio for a few minutes. The deer flies will give up and disperse once they realize your car isn't food. We promise. After they've settled down the parking lot is usually annoyance free once again.
Finally, habitat is very important. They may be aquatic born but they prefer woods and fields as adults. Just like mosquitoes, they don't frequent our boardwalk as much, and are usually never in the swampy parts. Even if it looks like you parked on a hornet nest in our parking lot, that's no indicator of how bad it will be in the swamp. This seems counterintuitive, but the swamp is a refuge against biting insects. We can't say the same about biting crayfish.
Oh, and those half inch to an inch long black flies with eyes wider than their bodies? Those are horse flies. They're also attracted to cars. Don't worry though, ours don't seem interested in biting humans at all. I don't even spare them a second glance. It's always the littler ones.
How you can help, right now
Beidler Membership
Click here to purchase a membership, which provides free admission for a year and other benefits.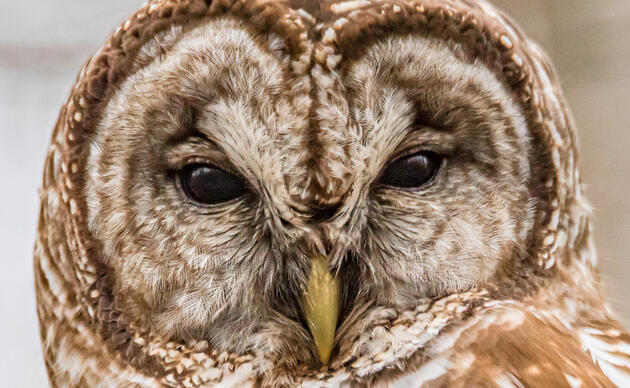 Donate to Beidler Forest
If you wish to support us, please consider donating. 100% of your donation goes back into Beidler Forest.